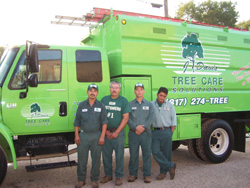 We offer expert and advanced tree services that are unsurpassed by the competition. Our reputable company has been operating successfully for many years in the area and has trained arborists know what they are doing. If you hire us, you can expect the job to be done right. Plus, you will be given an estimate before we begin working. Our certified team is highly skilled and can provide you with a list of quality tree care services in Southlake, TX such as tree trimming, tree removal, pruning, fertilizing, elevating, stump grinding, crown reduction, deadwood removal and pest control management. We also provide emergency services and will haul away debris.
You can rely on us for your tree care needs. Our experts know how to properly trim and prune trees and will not damage your trees during the process. They will carefully inspect your trees and will suggest the best course of action to help your trees thrive and grow. Our quality tree care services are highly professional, and our prices are competitive. We have the right tools and equipment to get the job done fast and to do it properly. You can trust our team to have the training, expertise, experience and skills to handle any tree service job.
If you want your trees to flourish and to live a long life and to be healthy and strong, we ask you to give us a call. We will not be outdone by any competing company in the region. You can depend on our expert crew to provide you with top quality tree care services in Southlake, TX. Our team works efficiently and safely and will do an outstanding job trimming, pruning, fertilizing or removing your trees. We guarantee that we offer the most thorough tree care ever...or it's free. Contact us today for an estimate or to book an appointment.