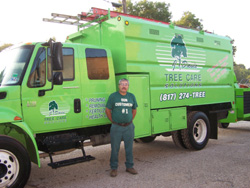 Weak branches and limbs can fall at any time and damage your car, home and you. To prevent this from happening, it is best to call experts that can provide you with professional tree pruning services in Arlington, TX. Plus, removing parts or sections of the tree that are diseased can keep disease from spreading and killing your tree. You can rely on our certified arborists to safely and effectively prune your trees. We have been in business in this area for many years and our services are unsurpassed. You can trust that our team knows what they are doing and will do a professional job pruning your trees.
Pruning is important to maintaining the health of your trees because it removes weak, dying and dead branches. Plus, it helps promote the growth of new branches. Our technicians are well experienced and know how to keep trees healthy. You can trust them to remove dying and diseased limbs so that your trees can flourish. The top-rate and professional tree pruning services we offer includes a complete tree inspection and free estimates. If you want expert and dependable services that will not be matched, we urge you to give us a call. Our arborists are highly skilled and will do an excellent job pruning your trees.
The services we provide can help your trees thrive and will make them look beautiful. If the tree can be saved, we guarantee our professional tree pruning in Arlington, TX can make your tree healthy and strong by removing dead, dying and diseased branches. Pruning can also be used to remove overgrown limbs and branches that may be interfering with cable, telephone or power lines. Plus, it can remove branches and limbs that are blocking your driveway or sidewalk. We offer the most thorough tree care ever...or it's free. Contact us today to schedule an appointment.