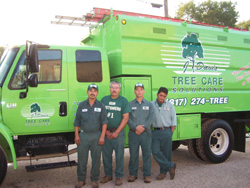 Several low hanging branches from the birch tree in your backyard is coming in contact with your power line and causing the lights to flicker in your home. If you want the problem to be solved quickly, we ask you to hire us for the job. Our crew is licensed and certified and can provide you with excellent tree trimming services in Southlake, TX none of our top competitors can match. We are a reliable and trusted company that has been operating successfully in the area for years. Our team will use pro-grade equipment and utilize safety measures to make certain the process is done right. When they finish working, we guarantee the issue will be fixed and handled correctly.


Our expert crew is highly trained and has the know-how to work safely and efficiently. In addition, they will not harm the tree or alter its natural and beautiful form. We are skilled professionals that know how to properly trim and shape trees. It is a good idea for homeowners to have their trees trimmed regularly to avoid issues such as tree limbs touching power lines. We can provide you with fast and effective tree trimming services that will help your tree thrive. Our arborists are very knowledgeable and are good at what they do. Many of our current and past clients praise our work on various consumer sites.
We would like to stress the importance of regular tree trimming services in Southlake, TX. It fortifies trees and increases their health and lifespan. Plus, trimming promotes new growth. If you want your tree to be expertly trimmed, we guarantee our crew can provide you with unbeatable services. We are a very dependable company that knows how to accurately and safely trim trees. We offer the most thorough tree care ever...or it's free. Contact our office to book an appointment.