Tree removal can be daunting, especially in Roanoke. Without the right tools or experience, attempting DIY tree removal can cause severe damage or injury.
That's why it's essential to understand the hidden dangers of tackling such a project on your own. J Davis Tree Care Solutions has been helping Roanoke residents safely remove trees for years, and they have some insight into why self-removal isn't always the best option.
Potential Risks of DIY Tree Removal
DIY tree removal may seem like a cost-effective option for homeowners in Roanoke, but it can lead to potential risks.
One of the most significant risks is injury, as removing trees requires specialized skills and equipment. Inexperienced individuals who attempt to remove trees at their own risk severe damages caused by falling branches or accidents with heavy machinery.
Another potential risk of DIY tree removal in Roanoke is property damage. Without proper training, individuals may not know how to safely fell a tree without causing damage to nearby structures like homes, power lines or vehicles.
This could cause costly repairs that far outweigh the initial savings from attempting to remove the tree on your own.
Last, removing a tree improperly can also lead to environmental issues like soil erosion or negative impacts on local wildlife habitats. Professional arborists have extensive knowledge of local ecology and know how to mitigate potential environmental impacts that could arise during tree removal.
Professional Help With J Davis Roanoke Tree Removal
That's where J Davis Tree Care Solutions comes in handy. We provide professional help with Roanoke tree removal at an affordable price. Our team of experienced arborists uses advanced equipment and techniques to remove trees safely and efficiently. Whether you need just one tree removed or an entire grove cleared out, we've got you covered.
By hiring our services for your Roanoke tree removal needs, your property and loved ones are safe from any potential dangers associated with DIY methods.
Plus, our team ensures that all debris from the process is cleaned and disposed of properly so your property looks as good as new after we're done!
DIY tree removal may sound like a good idea but it can be dangerous. One of the most significant dangers of DIY tree removal is falling branches. When a branch falls, it can cause severe injury or even death. Professional tree removers know how to assess the situation before removing branches to ensure safety for themselves and those around them.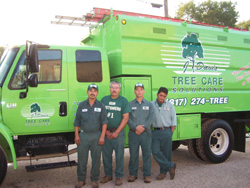 Get The Safest Tree Removal in Roanoke, TX, with J Davis Tree Care Solutions
DIY tree removal can be dangerous and should not be taken lightly. Before attempting to remove a tree, homeowners should consider their safety and the potential damage to their property.
Suppose you doubt your ability to complete the job safely and effectively. In that case, it is wise to consult a professional like J Davis Tree Care Solutions, who can provide expert advice and help with your tree removal needs.
Contact J Davis Tree Care Solutions today for professional tree care services. Our team of experts in provides prompt, reliable, and personalized service to meet your tree care needs.
You can even check our customer reviews on BBB, Yelp, or Yellow Pages.

Fill in for a Direct Response