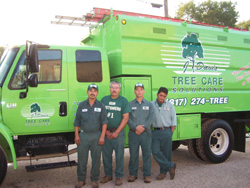 Tree's health is improved when its branches are pruned regularly through quality tree trimming in Southlake, TX This makes the plants to develop to maturity, hence reproducing. The best time to start pruning trees is after 2 years from when they're planted.

Here is how to conduct quality tree trimming in Southlake, TX:

• First, it's important to know where the branch collar is. The branch collar is an extension of a tree's trunk where limbs join the tree.

• Ensure that you prune the outside of the branch collar so that the main stem of the tree does not decay. You should use tools that are designated for pruning which are well sharpened. You should also wear protective working gears for your safety.

• You should avoid pruning trees that are next to overhead power lines since it's very risky.

• Avoid painting the section you've cut the branch since it may interfere with how the section heals. Prune trees to have one central stem that is strong and can produce better yields since there is no competition for nutrients.

• You should also prune to remove injured branches as they may cause the tree to decay if they're attacked by some disease.

• You should discourage people from topping since it leads to trees decaying on the tree trunk since the canopy of that tree is removed.

When you conduct excessive thinning it results in tree trunk being heavy hence making the trunk to taper.


Conclusion


When it comes to choosing arborist to prune your trees he should have the following qualities:

• Have a valid license to show that he is qualified for the work

• He should be properly insured so that in case of an accident he'll be compensated fully.

• He should also be a member of a professional organization body.