How Do I Find An Arborist In My Area? Trees are an excellent addition to any property. They provide privacy, shade, and a variety of colorful foliage. However, regardless of how beautiful trees can be, they can also be harmful. A dying tree, for example, can be a significant safety threat, and a tree with roots creeping into your septic tank can be pretty problematic.
If you've never hired a tree care services near me services in Euless, TX before, it's good to know how do you go about finding tree care services near me to get the best help possible.
Best Way To Find Euless, TX Tree Care Services Near Me
Instead of trying hundreds of sites on the Internet, the easiest way to start is to speak to your neighbors and friends about tree care services near me in Euless, TX.
Inquire about their satisfaction with the service they provide and the costs they charge, and you'll get an excellent idea of what a company can deliver. Once you know their names, you may head straight to their websites to discover more about them.
You can also lookup the company name online to see what other clients are talking about their employment and if they are a good fit for the position.
Consultations from Euless, TX Tree Care Services Near Me
Once you have a list of tree care companies, you can contact each tree care service near me.
Examine how supportive and helpful the office staff is to your inquiries. Make sure the company is licensed and insured before allowing them to work on your property.
Schedule an on-site consultation with someone who will examine your trees and make suggestions for the work you require. You can also gain a job estimate to make sure everything fits into your budget.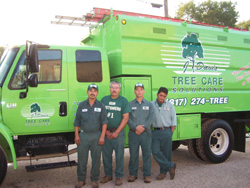 How to Find Tree Trimming Specialists in Euless, TX
We're specialists for all your tree service needs. We are fully licensed and insured for your safety, and we provide tree care services near me that will enhance the beauty of your trees and landscapes.
Contact J Davis Tree Care Solutions for the absolute best tree care services near me programs, or use the compact form below for a direct response.
You can even check out our customer reviews on BBB, Yelp, or Yellow Pages.

Fill in for a quick reply