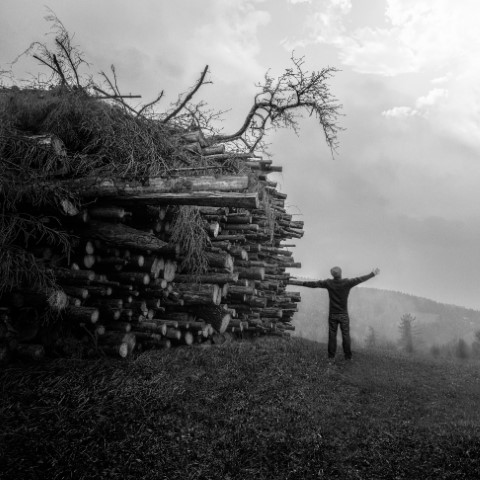 How do you get rid of a fallen tree? If a tree fell down in your garden, it doesn't matter if it's sick and dead or there was a storm. A downed tree can be both a blessing and a pain.
People who remove trees in Fort Worth may come in handy at some point.
Fallen Trees Make Firewood
Getting a downed tree out of your yard can be a lot of work. However, it does mean that if you have an open fire, you can have a lot of firewood. It's also possible to build a fire pit with some of the wood, and then sell or give away the rest.
If you want to do this, however, there is a catch. While it may be tempting to fell the tree yourself and save a few dollars, you risk getting hurt. People who do tree removal in Fort Worth should be licensed, bonded, and insured. If you need a tree to be removed from your property, always hire people who are.
Landscape Design Can Utilize a Fallen Tree
Believe it or not, a tree that has been cut down can actually make the landscape look better. There could be a bench made out of wood, short logs used as stools, or even a garden table.
When you have a lot of tree branches, you can do a lot of different things with your landscaping. As long as you have some patience and think outside the box, you can get far.
Cut A Fallen Tree into Lumber
No trees have the same value. As a result, if a tree is old, sick, or injured, it can only be used for firewood after it falls down. A mill might be able to cut your tree into lumber if it's still young and healthy.
Where to Find Affordable Tree Removal
J Davis Tree Care Services knows how difficult it can be to get rid of a tree that has fallen down. So, our crew only uses the safest and most effective tools. Because your safety is important to us, we won't risk it.
We aren't your typical tree-cutting service in Fort Worth. We do more than just cut down trees. For one thing, the people of Fort Worth have trusted us for a long time now. It only takes one conversation with us to see how much we love trees and our town.
Because we know that money can impede removal services, we go above and beyond to help you pay for our tree removal service.
When you work with J Davis, you can count on us to be reliable. Our facilities are open all year with a 24-hour emergency service.
Contact J Davis Tree Care Solutions for the very best tree care programs, or use the compact form below for a direct response.
You can even check out our customer reviews on BBB, Yelp, or Yellow Pages.

Fill in for a fast response