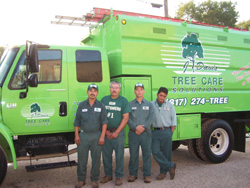 While a tree stump on your property may not appear to be a significant issue, tree stumps can be hazardous not just to the health of your yard but also to the safety of your family.
Children and dogs are at risk from tree stumps, which can cause catastrophic injury. They also impede your grass from receiving the care it requires because mowing around them and regular weeding are required to prevent overgrowth.
They also don't appear to be sexy. If you need a stump removed, contact J Davis Tree Services.
Fort Worth, TX Professional Stump Removal in
Our tree service in Fort Worth is fully licensed to perform a variety of tree services, including total or partial tree removal, tree trimming, stump removal, stump grinding, commercial tree removal, and storm damage restoration.
We provide emergency services for both residential and commercial premises in the area 24 hours a day, 7 days a week. When it comes to stump removal, there are two options available.
Stump Grinding in Fort Worth
It's critical to note that homeowners should never attempt to grind or remove a stump independently.
Both stump removal procedures are labor-intensive and necessitate the use of specialized equipment.
Stump grinding utilizes a solid machine to chop the stump to the desired height to merge with the surrounding area.
While removing the tree's visible remains, it still leaves the tree's roots behind, which might lead to germination, fungi, or the development of the stump. Although the roots eventually decay, it can take up to ten years for them to do so.
Pros
Quick and effective.

Stump grinding is a less invasive and cleaner alternative to stump removal.

Use wood chips as mulch to be environmentally friendly.

Cleans up the yard

Stump removal is more expensive.
Cons
Roots do not grow above the earth.

It's a mess unless trained professionals like J Davis arborists.
Stump Removal
Stump removal, often known as "stump pulling," entails removing the entire tree from its roots. Stump removal can be intrusive and necessitates using a lot of force.
While stump removal eliminates the stump, it also leaves a large, unsightly hole in your yard that may be more dangerous than the stump. If you choose stump removal from J Davis, we will assist you inadequately in filling the hole.
Pros
Removes stump and roots

Stops regrowth
Cons
Costlier than stump grinding

More intrusive as it makes a hole

Less environmentally friendly

Where to Find Winter Stump Removal in Fort Worth
With J Davis Tree Care Services' stump grinding and stump removal services, you can improve the aesthetic of your yard, free up space, extend the life of your lawnmower, and keep your family healthy.
As you can see, it is also suggested as the best way for stump grinding. It is faster and performs an outstanding job of keeping your yard protected.
If you need more of the above services, all you need to do is Contact J Davis Tree Care Solutions for the very best tree care programs or use the compact form below for a direct response.
You can even check our customer reviews on BBB, Yelp, or Yellow Pages.

Fill in for a quick reply