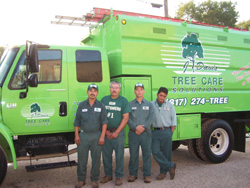 Trees not only add beauty to the environment, but they also bring a lot of benefits. They provide clean air and protective shades during the hot summer months. Also, by helping control soil erosion, trees can save us from dangerous floods during the rainy days. These reasons and so much more show us why it is so natural to desire to have trees around us. But sometimes these same trees can become a threat to our lives. It is during such times when we need to contact a tree removal service.




You may think that tree removal in Southlake, TX is a job you can perform on your own. But keep in mind, this may not always be the best option. Consider that if the job is not performed correctly, it could do far more harm than good. You could wind up getting hurt, as well as other people around you or even your neighbors. Aside from these dangers, there are other reasons that hiring Quality Tree Removal Company might be a good idea.



People in this field have the expertise and years of experience to ensure that the job will be done without posing any risk to you or to your neighbor. Moreover, they are equipped with protective gears to keep them safe even when sawing branches of a tall tree. They are experts in handling specialized tools needed to remove any kind of trees, even the most abundant species of trees. On the other hand, trying to use these tools without the proper training and knowledge could cause you harm and injury.



Quality Tree removal professionals offer a complete work. On the contrary, removing the tree yourself may not always yield the same satisfying results. Often, large trees have very big roots, which you may not be able to remove, leaving some bulging from the ground. But tree services company have well-trained staff who can remove trees completely, giving you the assurance that they can get the job done without a glitch making every penny you pay them worth it.




A word of caution when hiring a tree removal service in Southlake, TX: hire only licensed contractors and make sure they have insurance. This will save you from future headaches in case somebody becomes injured while doing his job. Also, make sure the company only sends people who have undergone the necessary training and capable of accomplishing their job. You may either ask your neighbors and friends for a referral or search online for tree removal services. In any case, lay down with the company you choose the work you want them to do and make everything clear by putting everything on paper.